Keleeravam news
July 8, 2012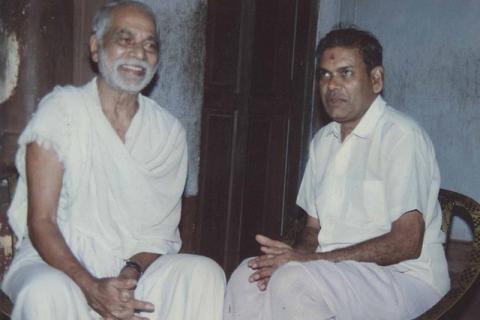 Padmashree Keezhpadam Kumaran Nair, an outstanding Kathakali actor and a highly respected master of the art form was a rare and distinct personality in the domain of Kathakali. Be it among his peer group or the modern day Kathakali actors, Keezhpadam is a stalwart in Kathakali, who possesses a fine blend of versatility, exemplary acting talent, and logical
adaptation of a situation, which are traits considered essential for a Kathakali actor.
Born to Puthan Madathil Ramunni Nair and Laxmi Amma, Mr. Keezhpadam Kumaran Nair made his initiation as Kathakali actor at the training center,Kanthalur in Vellinezhi. Blessed and watched by his guru (teacher), the renowned Mr. Pattikamthodi Ramunni Menon, the young Keezhpadam gave his debut performance at Kanthalur Temple.
Since the day of his debut performance, and for the past sixty years, his tinkling anklets that trod many a stage in and out of Kerala, and enthralled followers of Kathakali never ceased to excite.
His was a style that followed the flawless Kanthalur school of Kathakali acting, through which he portrayed umpteen Kathakali characters that instantly communicated with the audience.
Keezhpadam was an exponent in adorning all types of Kathakali characters, and was noted for his character types that demanded strict code of performance as in the case of a character like
'Bali' in the play 'Bali Vadham' (the slaying of Bali).
A rhythmic co-ordination of hands, feet and eyes, non-deviation from the essential character traits reflected through posture, mobility, and acting, measured level of acting with precise movements were the hallmarks of Mr. Keezhpadam Kumaran Nair. These traits are worthy of emulating for budding as well as the young Kathakali actors of modern day. Among the character types in Kathakali, Mr. Keezhpadam took a special delight in performing Kathi (villainous), Vella Thadi (pious) and Minukku (mostly women and saints).
Besides his paramount interest as a Kathakali actor, Mr. Keezhpadam has also shared his expertise with the leading training centre, Kerala Kalamandalam briefly between 1955 and 1957. His skills were also utilized by PSV Natya Sangham at Kottakkal in Malappuram and also by the training center of Muriyathu Warrier in Chunangattu. For about six years, starting from 1975, Keezhpadam Kumaran Nair served as Chief Kathakali Master at Delhi International Centre in NewDelhi.
Connoisseurs of art outside the country were also fortunate to witness the performance of this gifted artiste of Kathakali, who made an everlasting impression among audiences in countries like
Greece, former Yugoslavia, East Germany (now part of unified Germany), Russia etc.
As an ardent practitioner and an accomplished master of Kathakali, Mr. Keezhpadam is credited for guiding some of the brightest talents in Kathakali like Kalamandalam Gopi, Kalamandalam
Kuttan, and the likes of Sadanam Krishnan Kutty and Sadanam Nandakumaran, and a dozen more disciples, who had the privilege to perfect their skills in Kathakali acting under the tutelage
of Keezhpadam Kumaran Nair.
Recipient of Kerala Sangeetha Nataka Academy award, Mr. Keezhpadam Kumaran Nair is one of those big-hearted Kathakali actors, who got inspired by the Kalluvazhi School of Kathakali acting,
which later got more refined at the training centres at Kanthalur and Kerala Kalamandalam.
Keezhpadam belongs to the last of those Kathakali luminaries who looked upon Kathakali, not as a means for living but as an expression of a fabulous art, which they practiced and loved, and
also took delight in performing it for the followers.
Training
Kumaran Nair, a disciple of Pattikkanthody Ravunni Menon, started his training in Kathakali at a very young age. At 18, he had established himself as a leading artiste. He was invited to Chennai
to teach Kathakali to some artistes in the film industry. Kumaran Nair started his career as a teacher there. It was in Chennai that he was exposed to other art forms, styles of dance and artistes. In 1955,
Mahakavi Vallathol invited Nair to join Kerala Kalamandalam. His tenure in Kalamandalam was short lived. When he returned from Chennai, he found that other artists had already established
themselves in leading roles, and to gain a foothold as a performer he had to develop a new approach and format in Kathakali.
In 1960 he joined Gandhi Seva Sadanam, Peroor, as the main teacher of Kathakali. It was the golden era for Kumaran Nair's career as a teacher. The result of his work there was the emergence of gifted performers such as Sadanam Krishnankutty, Sadanam Balakrishnan, Naripatta, and Sadanam Harikumar. Although Kathi and Vellathadi are Nair's main veshams, his occasional performances in kari and pacha were also greatly appreciated by the audience. Hanuman in `Lavanasuravadham' and `Kalyanasougandhikam,' and the portrayal of different kinds of Ravana were among his masterpieces. Kumaran Nair is famous for his innovative portrayals, experimentation in presentation and the use of technical possibilities of theatre in Kathakali. A `padappurappadu' in `Nalacharitham first day,' an `ashtakalasam' in `Kalianasougandhikam' were some of the specialities of his performance. And these at times paved the way for bouquets and brick bats too. Blossoming Kathakali artistes will do well in learning from this Bheeshmacharya.
Source / Courtesy :- 'Keleeravam' updated news by Thiranottam, dated 26-07-2007