Sreevalsan Thiyyadi
August 30, 2013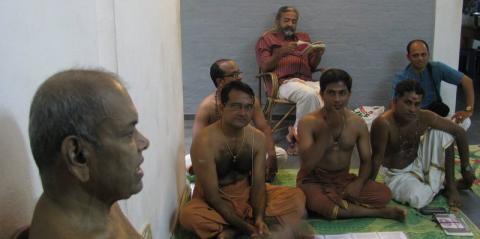 Three centuries after he penned the lengthy classic, the complete text of Unnayi Warrier's popular Nalacharitam is poised to be staged abroad for the first time in the history of Kathakali. Equally interestingly, the project has sprouted in the iconic poet's very birthplace in central Kerala. Recently, a group of some two dozen Kathakali artistes and scholars got together in Irinjalakuda to rehearse certain less-familiar and near-forgotten acts of the story-play celebrated for its dramatic build-up steeped in lyrical and musical eminence. The four-day workshop organised by 'Thiranottam' marked a joined stride to present an unabridged Nalacharitam at Dubai — the UAE city where the Malayali cultural organization has already spread its wings. The event, slated to happen three months from now, will be a milestone for Kathakali at large. For, it is very rare that the Unnayi masterpiece finds portrayal in its entirety even in the art-form's native state. "We estimate 30 hours of presentation spanning across four days of the festival this November-December," reveals Remesan Nambissan, a top functionary with 2007-founded Thiranottam which divides its activities between West Asia and Kerala. A 'test show' of Sampoorna Nalacharitam will be staged in Irinjalakuda in the second week of October.
Aesthetes note that Nalacharitam's labyrinthine storyline lends itself to fascinatingly varied interpretation of its plots and characters. For more than a 100 years now, the romantic play has enriched Kathakali with a range of approaches, some of which have become schools by themselves. One such is that of the thoughtful Vazhenkada Kunchu Nair. The late maestro has had a frontline disciple, Kalamandalam Vasu Pisharody, who is practically directing the pioneering production. "Of course, my guru has influenced my concept about Nalacharitam. Yet, I plan to present it from a lot of self-earned conclusions," says the actor-dancer, whose much-awaited tome on the story-play is being brought out next year by the Kunchu Nair Trust in Palakkad district. Critic K B Raj Anand of the 26-year-old Trust functioning from Karalmanna off Cherplassery is also part of the ongoing Nalacharitam initiative. "His suggestions on employment of rhythm to the lyrics and their speed have been vital," notes M K Aniyan, who is coordinating the whole exercise right from the germination of the idea last year. As for conceiving the meaning of the cryptic words and pun usages, guidance has come in from linguist-lyricist P Venugopalan, who also runs the Sandarshan Kathakali Yogam at his native Ambalapuzha in Alappuzha district. "His tips have been enlightening for us artists," says Kottakkal Devadas who acts as villainous Kali in the play, the first rehearsal for which was held during August 15-18 at Walden, owned by writer K V Ramanathan and designed by artist Rajan Krishnan.
At 48, Devadas and Sadanam Bhasi are among the eldest of the Kathakali actors in the A-to-Z Nalacharitam project — other than septuagenarian star Kalamandalam Gopi and Margi Vijayakumar (53) who are being cast as Bahukan and Damayanti in Nalam Divasam at the Dubai fest. Kalamandalam Shanmukhadas, Ettumanoor Kannan and Peesappally Rajeevan will don the main roles in the first three segments respectively, adds Thiranottam's Nambissan, who lives in Irinjalakuda south of Thrissur. "The idea, also, is to give young artistes a great venue," he notes, pointing out that the vocalists, percussionists and greenroom men, too, a predominantly from the new generation of the 400-year-old art form.